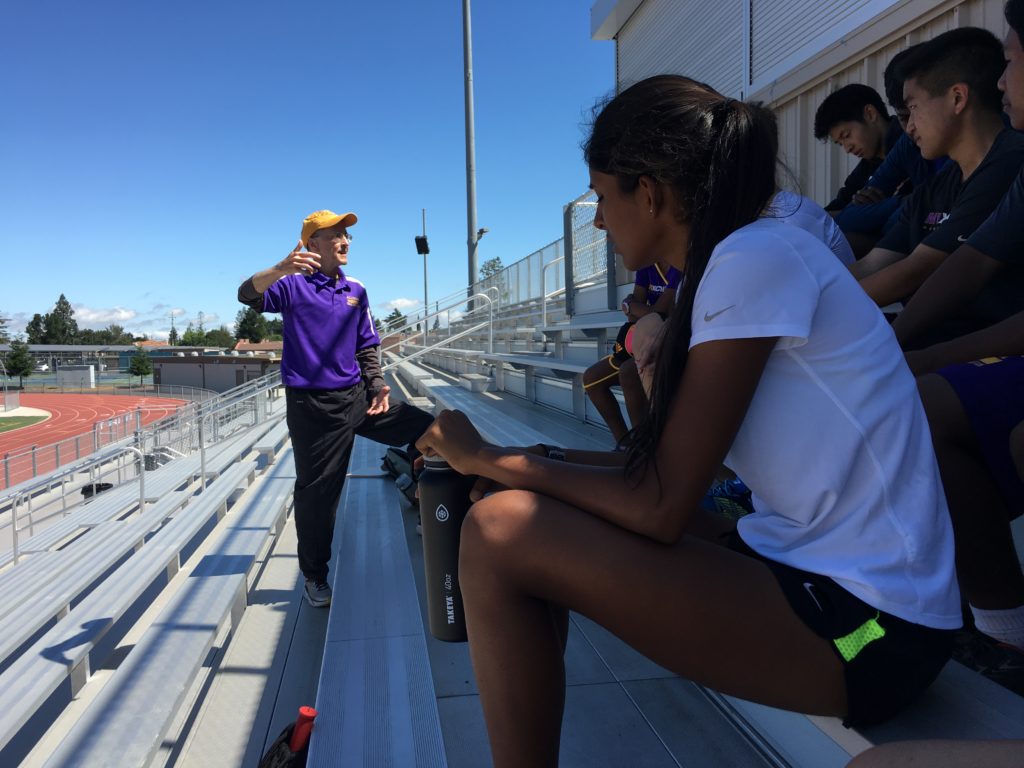 Coach Pete Farwell, Williams College's long time and highly decorated cross country and track and field coach, visited Monta Vista for an open clinic on June 26 and 27.  Coach Farwell covered a lot of ground in only two days:  Drills and warm up, stretching and flexibility, workout pacing zones, discussion of racing tactics and what it is like to be part of a college team.
One big takeaway for MVXC was that training and improvement in running is incremental.  The training and effort that college athletes commit to is not radically different that what Monta Vista high school athletes are doing.  Williams athletes' training could be a reasonable goal for our athletes after three to four years of continuous work.  That's one of the great things about our sport; we can visualize the continuum from our current level of skill and fitness to the level of college athletes and beyond, even to pros like Molly Huddle or Paul Chelimo.  (That's a lot different from other sports, like basketball for instance–I am pretty sure I could practice basketball for the next twenty years and be unable to replicate Stef Curry's warm up much less play in a game!).
It was great to see so many athletes out there working hard.  You all look like you are working hard this summer, and I am sure that Coach Farwell's advice will give us lots to think about, things to work on and ideas to motivate us during the summer!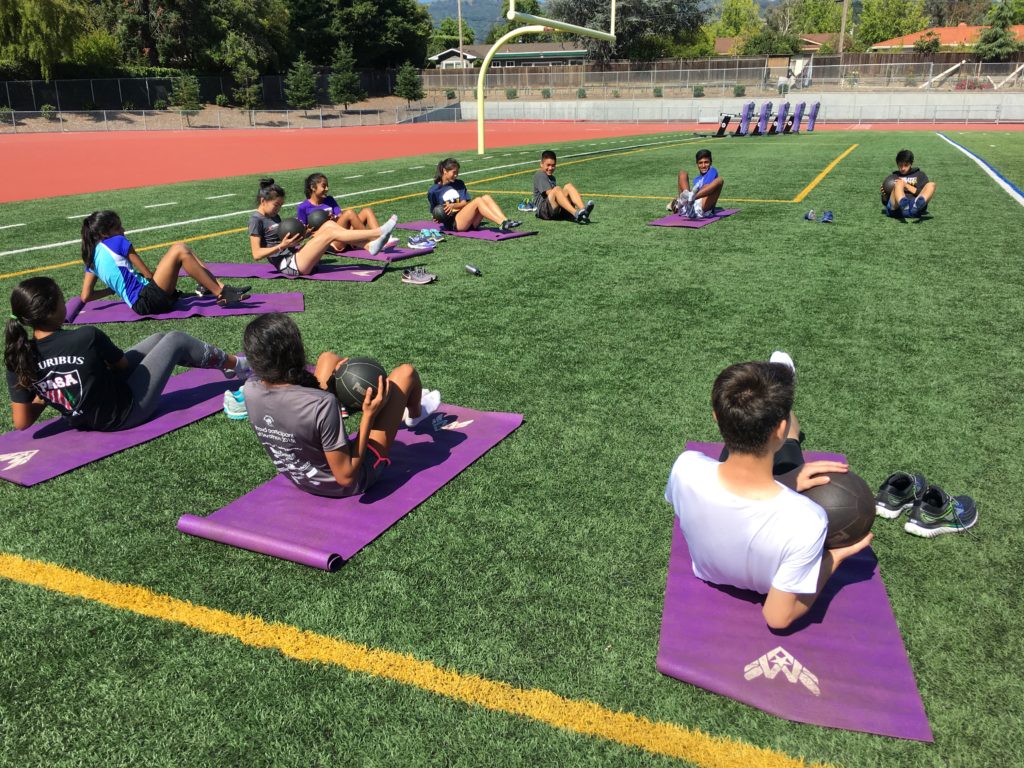 ABOUT COACH FARWELL
Pete Farwell has been at Williams College since 1979, and is the head coach of the men's and women's cross country teams.
Through the 2016 season his men's teams have won 13 New England regional titles plus six runners-up and four thirds), 16 NESCAC titles and 8 ECAC titles, garnering Farwell nine regional coach of the year honors. He was named 1994 National Coach of the Year after leading the Williams men to the first of its two NCAA championships.
In 2015 Farwell's Eph men's team finished second at the NCAA Championships, just nine points from the title, while his Eph women's team won the NCAA title by a margin of 98 points.
Since 1993 the men's teams have finished in the top ten 18 times, and the women's teams won the NCAA title in 2002, 2004 and 2015 and have recorded four runner-up finishes with 15 top eight placings in the past 16 years.
Coach Farwell's women's teams have won four New England regional titles, including 2015 to go with nine runners-up finishes and two thirds, seven NESCAC titles and five ECAC titles, and he has been chosen women's regional coach of the year four times, NESCAC Coach of the Year four times, and National Coach of the Year three times in 2002, 2004 & 2015.
Altogether Coach Farwell has coached 24 men harriers to 37 All-American finishes (including two national champions) and 19 women to 29 All-American finishes (including one national champion).
Bringing to the sport a Williams ('73) liberal arts undergraduate education combined with a scientific knowledge of physiology (M.A. in P.E. Coaching, Central Michigan University '90), Coach Farwell has devised a training plan that improves runners of all levels. His devotion to every athlete on the team helps make Williams one of the deepest Division III teams in the nation.
Farwell's personal 23-year competitive experience included a 23rd-place finish (2:20) at the Boston Marathon and the 6-mile Williams school record.
Altogether he has coached 83 different track All-Americans to 204 All-American performances, plus relay members (11 men's and 12 women's All-American relays).
WILLIAMS COLLEGE
Williams College is one of the leading colleges in the world, ranked first among liberal arts colleges for 14 consecutive years by US News and World Report and by Forbes, second among all undergraduate institutions.