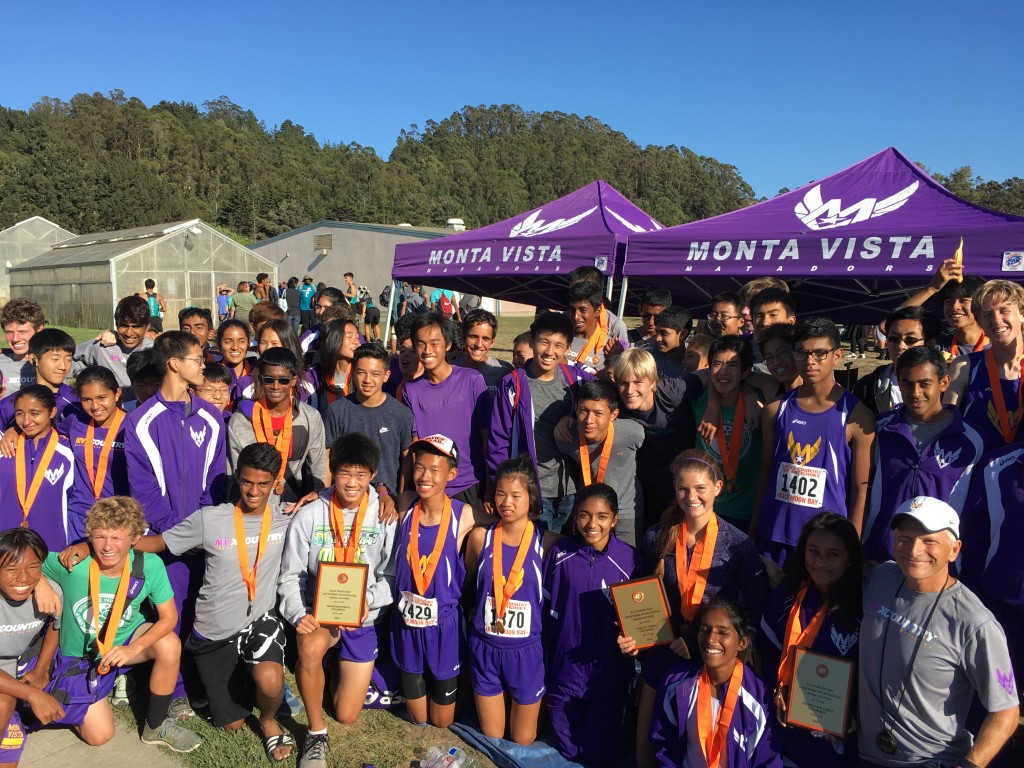 Below is the schedule for the 2017 Monta Vista cross country season. You may download and print a copy of the schedule.
Please note that this schedule is subject to change so please check back here for updates. More than that–I am SURE that there will be additions, changes to times and dates, and drops to this schedule. Guaranteed that there will be changes! Please pay attention to announcements at practice and on this web site. This schedule WILL CHANGE!
Meet sheets will be downloadable from this page a few days prior to the date of each event.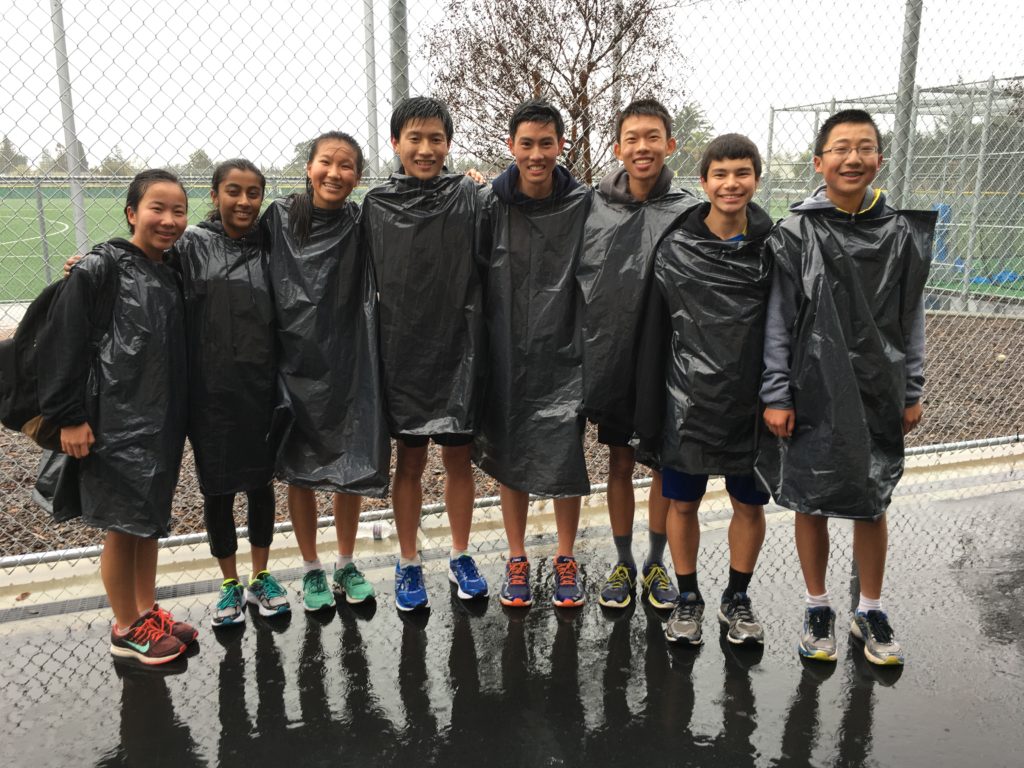 Paperwork/Before Joining The Team
All the required paperwork is available on the Matador Athletics website. Here you will find everything you need to get cleared to join the team. You may NOT join the team and you may NOT practice with the team until everything on this list has been completed and approved by the school trainer, Javier Margarito, or by Mr. Bonacorsi.
If you are reading this you have not had your annual physical yet–go ask your parents to schedule your annual physical, right now, as soon as a doctor's appointment is available. Doctor schedules will fill up later this summer and there is always someone who can't get their physical done on time. Don't be 'that guy'. 🙂 Get your physical complete right now!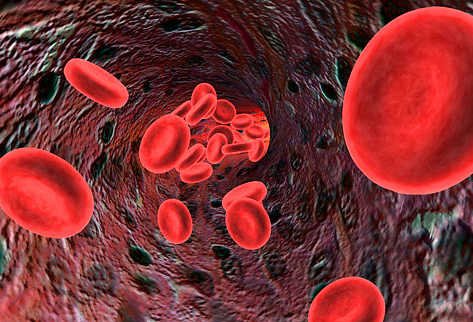 Consider asking for a serum ferritin test when you have your physical done–this is really valuable. So far, of the kids that I know that have been tested, more than 80% have had results that required some form of iron supplementation. Many college cross country teams require athletes to have a complete blood panel before joining their team! Everyone should be tested! Iron is critical for endurance athletes' performance and their enjoyment of our sport.

Find out why

here

.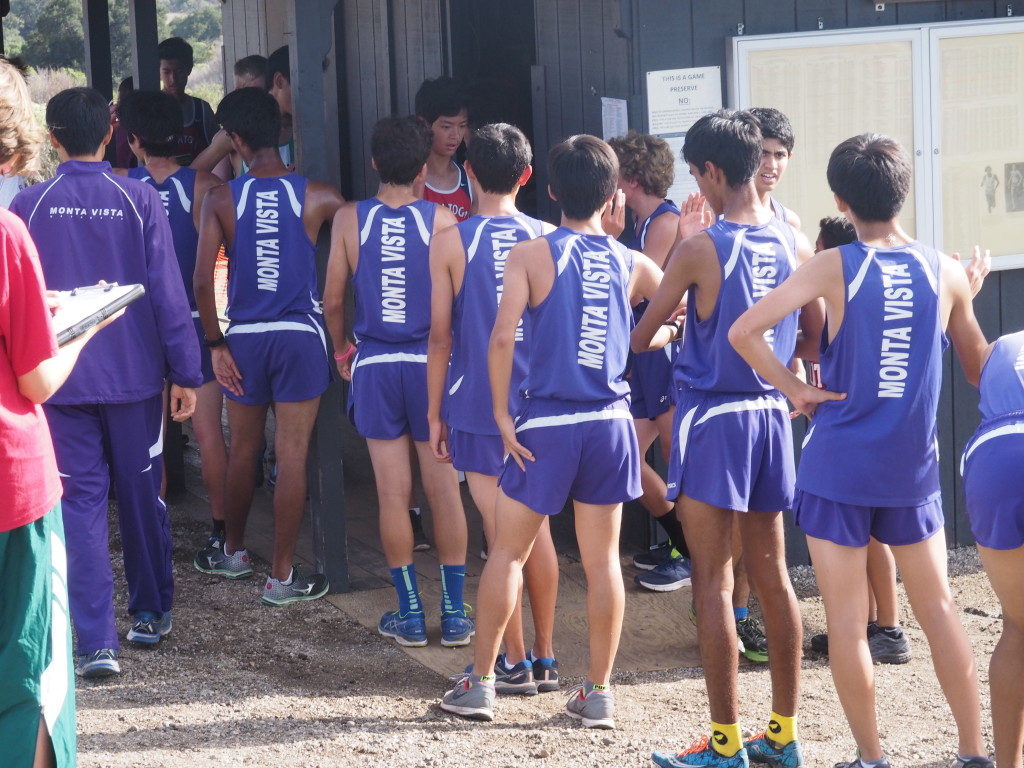 Monta Vista Athletic Boosters
Athletes please help direct your parents to the Monta Vista Boosters site to join Boosters on behalf of the Track and Field team. Parents, please join today! Without this funding, we would not be able to function as we do. Public education is cash-strapped and without the support of MVAB, our athletics program would not be anywhere near what we know and enjoy today.
Monta Vista Cross Country 2017
A Few Important Notes
You are joining a Team, not a club
Athletes will not be cut solely for athletic performance, however athletes may be cut for lack of effort or for poor attitudes at the coaches' sole discretion. Coaches care more about how committed you have chosen to be to your team and your own improvement than we care about the genetic gifts you inherited. Half-hearted effort (as judged by your coach), chronic lateness or unexcused absences, cutting out early, being a distraction to anyone and similar behavior does not help the athlete or the team, no matter how fast you are. If you are not working hard and demonstrating commitment in the eyes of your coach, you will be given the opportunity to find an activity other than track and field. All Monta Vista High School rules and code of conduct apply to athletes; breaking a rule is grounds for dismissal from the team.
Earning PE Credit
PE credit is school credit; if you want credit you should think of your sport as a class. In order to earn PE Credit, you have the following requirements.
You may miss no more than 5 practices during the season. We will take attendance every day.

It is an absence if you are late to practice and we have left on a run without you.
It is an absence if you leave before practice ends (for example, if you are leave before the core work at the end of practice, or you are not on the run with us).
You may miss a practice if you are sick and you do not attend school that day due to sickness. If you attend school, we expect you at practice that day.
You may not miss a team competition unless excused: Watermelon, Earlybird, SCVAL 1, SCVAL 2, SCVAL 3, Artichoke, Lynbrook Invite, DAL Championship. You may miss a meet if you are sick and you do not attend school that day due to sickness (or for a Saturday meet, if you do not attend school either the Friday before or the Monday after). If you are at school, come and race or support your teammates; if you are at school, be at the meet.

If you are injured and will not be able to train:

Bring a doctor's written note.
You must still come to practice; you can exercise, help with team tasks or do homework. (You may miss practice if you have physical therapy scheduled for your injury during practice, and have provided coaches with written back up including contact information for your therapist).
You must still come to meets; you can work on the meet and cheer on your teammates.
If you cannot meet these attendance requirements, if you are still willing to work hard the coaches may, at their discretion, still keep you on the team. If the coaches decide to allow you to stay on the team with less attendance requirements, you will not earn PE credit.
Even if you attend practices, you may still be cut for lack of effort, or for attitude, at the discretion of the coach and you will not earn PE credit. There may be other requirements imposed upon you during the season. We expect you to be respectful, have a positive attitude, work hard, and be a good teammate.
Remember that the above list is a minimum requirement and do not guarantee you earn credit. Just showing up Is not enough. The coaches reserve the right to use their discretion in granting PE credit, however please understand that the easiest way to get PE credit is to sign up and attend a PE class—not to join the track team.
Excused Absences
An absence may be excused at the coaches' discretion. The request is more likely (but not guaranteed) to be granted if:
You have a chance for a unique academic opportunity ("I have a chance to interview Michelle Obama".).
You are part of an important family event ("My grandmother having her 80th birthday party.")
A medical appointment.
The request is for something unique and valuable academically/educationally.
You make your request in the first two weeks in writing (you know when your grandmother's birthday is!).
There will not be an excused absence for a regular after school class or club you sign up for, play a club sport, take a SAT review session, you want to leave early on Friday for a weekend or similar things. You have 5 free absences to use for activities and absences that are not coach approved, so use these days wisely.
To request an excused absence, give a coach the request in writing; this request does not guarantee approval, however (we don't care how far ahead you request to miss practice for a seminar on 'Advanced Candy Crush Cheats' or the opening of the next Star Wars movie).
We all chose to join the cross country team. Joining the team is not something that anyone is making us do, we choose to join this team. Since we chose to be here, we should also choose to perform our best.
Compete: From the Latin root words, com- [together] and petere [seek] -> competere [

strive together

]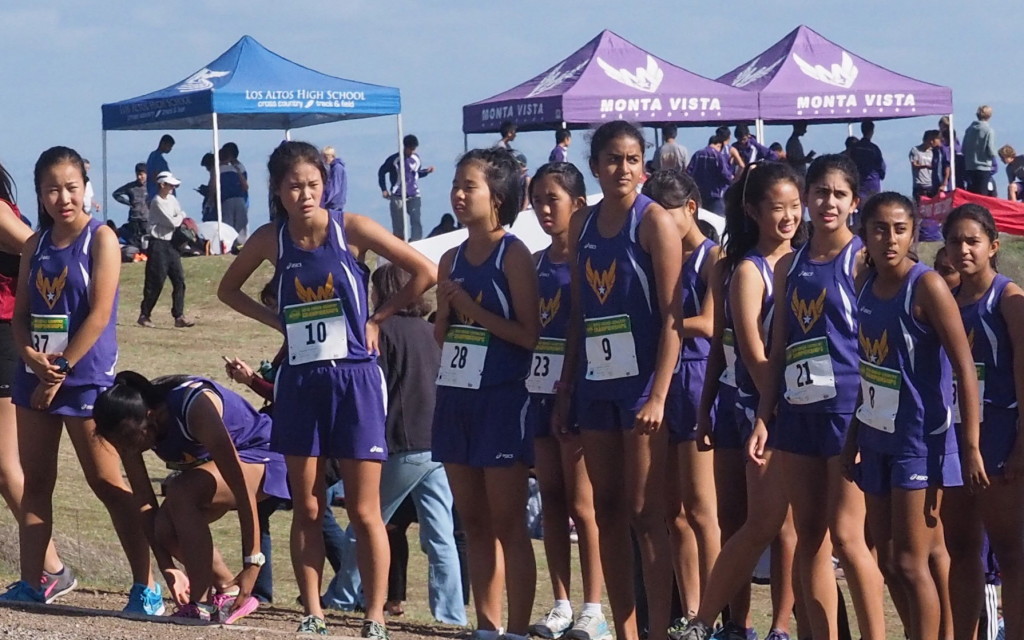 SENIORS JOINING THE CROSS COUNTRY TEAM NEEDING PE CREDIT
Please understand that you may be cut for breaking any team rule, and that you may also be cut from the team if the coaches decide, in their sole opinion, that you are not giving my full effort or that you do not have a positive personal or team attitude. If you don't trust the coach's judgement, you do not have to join the team. You should understand and agree that while the coaches' judgment may not seem objective to you, you have joined this team knowing that you are expected to be on time every day, to have a positive attitude, to cheer on your teammates, to give your best effort work hard and to improve every day rain or shine, and you trust the coaches in evaluating your effort and attitude and will accept their judgment. If you don't love track, and love working hard, an easier way to get PE credit is to join a PE class. Being on the track team is more work than PE class.
Being in reasonable shape when the season starts is an expectation. If you are sore after the first few workouts, well…that is normal. If you are serious about being on the cross country team, you have been running all summer and you would be in some kind of decent level of fitness before the season starts. That level of fitness would show that you are serious about being part of the cross country team.
You understand that if you are cut, and you needed PE credit to graduate, you will not graduate with your class. This may have an impact on any college which has accepted you. Someone else may receive your place in college if you do not graduate with your class at Monta Vista.
If you think this is not reasonable, and you don't trust the coaches' judgment, then you don't have to join the track team—you can simply join a PE class to earn PE credit. Talk to your counselor about this right now.
Working hard to become our best is not a sacrifice—this is simply what we do.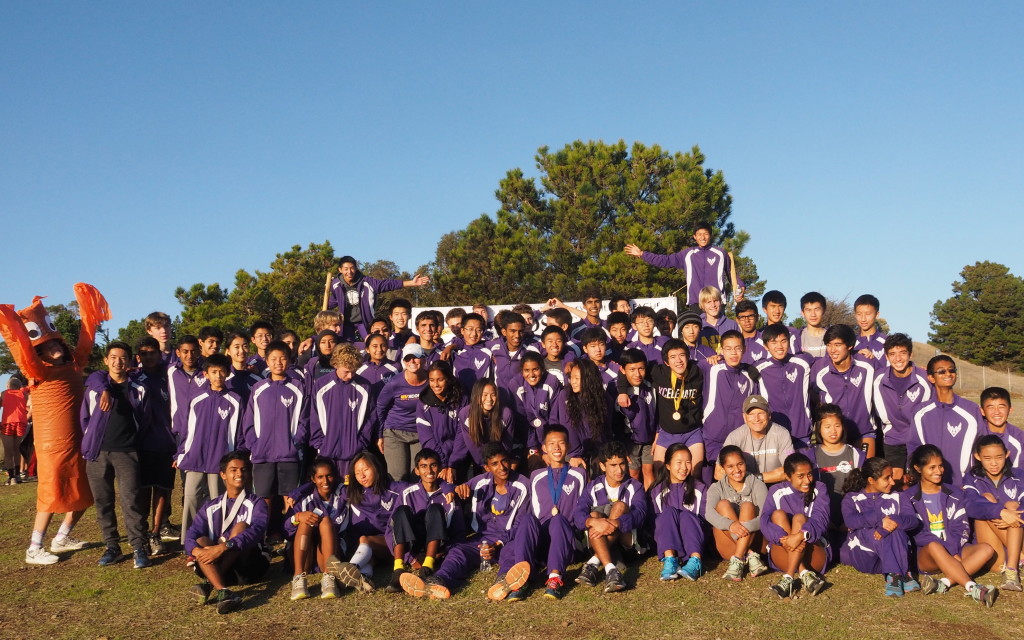 | | | | |
| --- | --- | --- | --- |
| Date/Time | Meet/Opponent | Location | Information |
| August 2 | Paperwork Clearance Day | MV | Meet Sheet Meet Sheet Meet Sheet |
| August 7 and 8 4pm | First Days of Practice | MV Track | |
| Aug 9, 10, 11 7am | First Week of Practice | MV Track | |
| August 12 7am | First Saturday Practice (and pot-luck breakast!) Optional but highly recommended for goal-oriented runners! | MV Track | |
| August 14 3:20pm | First Day of School/Regular Practice Starts | MV Track. Practice starts 20 minutes after last class ends EVERY DAY | |
| August 18 | Last day for Sophomores, Juniors and Seniors to complete all paperwork, be cleared and join the team. | Note that if you are planning on earning PE Credit you will have accumulated missed days for each day you were not cleared. | Meet Sheet |
| August 30 6:15pm | Parent Night | Student Union/Cafeteria | |
| August 31 3:20pm | Watermelon Run/MVXC TT (Practice will run one hour late today) | Stevens Canyon | |
| September 4 7am | Holiday Practice | MV Track. Highly recommended! | |
| September 12 | Issue Uniforms at Practice (Parents, we need volunteer help!) | Parking Lot Storage Unit | |
| September 15 | Pasta Night! | Family Hosted/Volunteer Needed | |
| September 16 6am! | Earlybird Invitational (Whole team!) | Toro Park, Salinas | Meet Sheet |
| September 18 3:20 | Team Photo Day | WEAR YOUR UNIFORMs to practice (shorts and singlet)! | |
| September 22-24 | Three Course Challenge. 20 select athletes. | Seaside, OR. | |
| September 26 3pm | Central Park Invitational (SCVAL 1/Whole team) | Central Park, Santa Clara | Meet Sheet |
| October 3 2:30pm | Crystal Preview (SCVAL 2/Whole team) | Crystal Springs, Belmont | Meet Sheet |
| October 7 1pm | Artichoke Invitational (& Beach Party) | Half Moon Bay HS | Meet Sheet |
| October 14 | Monterey Bay Invitational | Toro Park, Salinas | Meet Sheet |
| October 17 3pm | Baylands Meet (SCVAL 3/Whole team) | Baylands, Sunnyvale | Meet Sheet |
| October 21-22 | Mt. SAC Invitational MVXC WILL NOT ATTEND IN 2017 | Los Angeles | |
| October 26 3pm | Lynbrook Invitational/FUHSD Championships (Whole team) | Lynbrook HS | Meet Sheet |
| October 31 1pm | SCVAL Championship Meet (Whole Team) | Crystal Springs, Belmont | Meet Sheet |
| November 11 | Central Coast Section Championships (Varsity) | Toro Park, Salinas | |
| November 14 6pm | Awards Banquet (Everyone and Family!) | Student Union/Cafeteria | |
| November 25 | State Championships | Woodward Park, Fresno | |