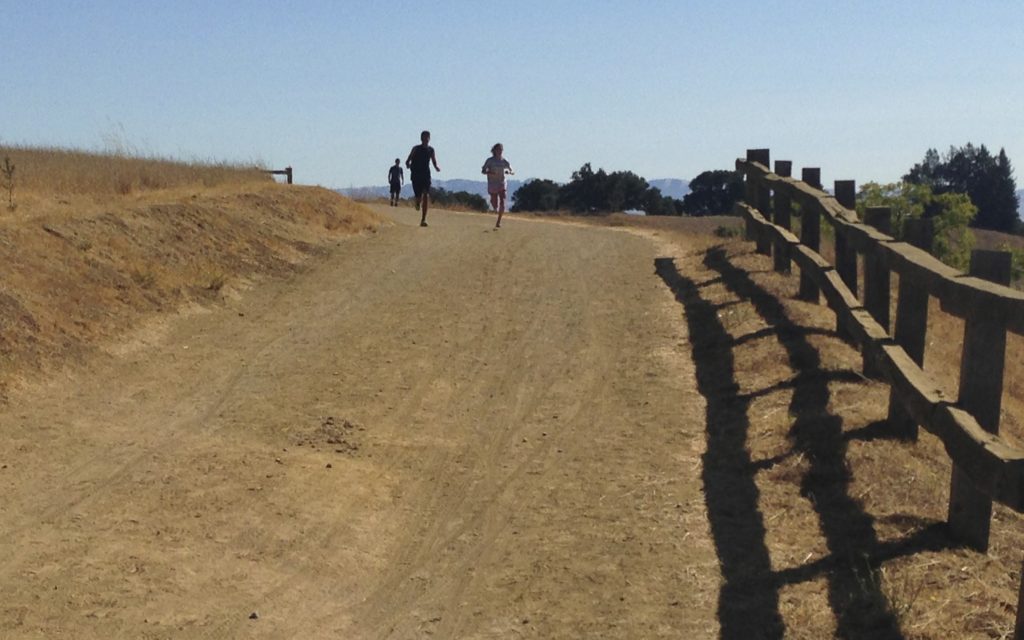 It's easy to get in a running rut–a constant assortment of mindless repeats of Matadors or Homestead Loop with your mind stuck in neutral.  However off-season running is a great time to try something different.  Here are some ideas…
Starting at Monta Vista
You might think that we have run every run that could possible be run starting from the track at MV, but there are some options that the team has not done too often, for example:
We did not run the Seven Springs add-on to Up and Over much this season.  You can also add this loop on from the Fire Trail side.
Continue down the RR tracks and (carefully) cross De Anza and continue along the tracks and explore.  There is a nice section of improved trail down that way…there is a Santa Clara County Master Plan to extend that improved trail all the way to Stevens Creek Blvd. in Cupertino that the city of Cupertino has, sadly, not funded yet.  Check out that trail and think about how nice it would be to run on that from McClellan down to Rainbow!  Sigh.  Maybe this is a good civics project, go pitch the city council, it worked in Saratoga.  (This would be such a wonderful MVXC workout trail!)  You could run all the way to Saratoga High School and back.
Julia's run is always fun (and very hard core).
Run Horse backwards (or run Garrod's from Prospect and come back to school down Horse–that's fun too).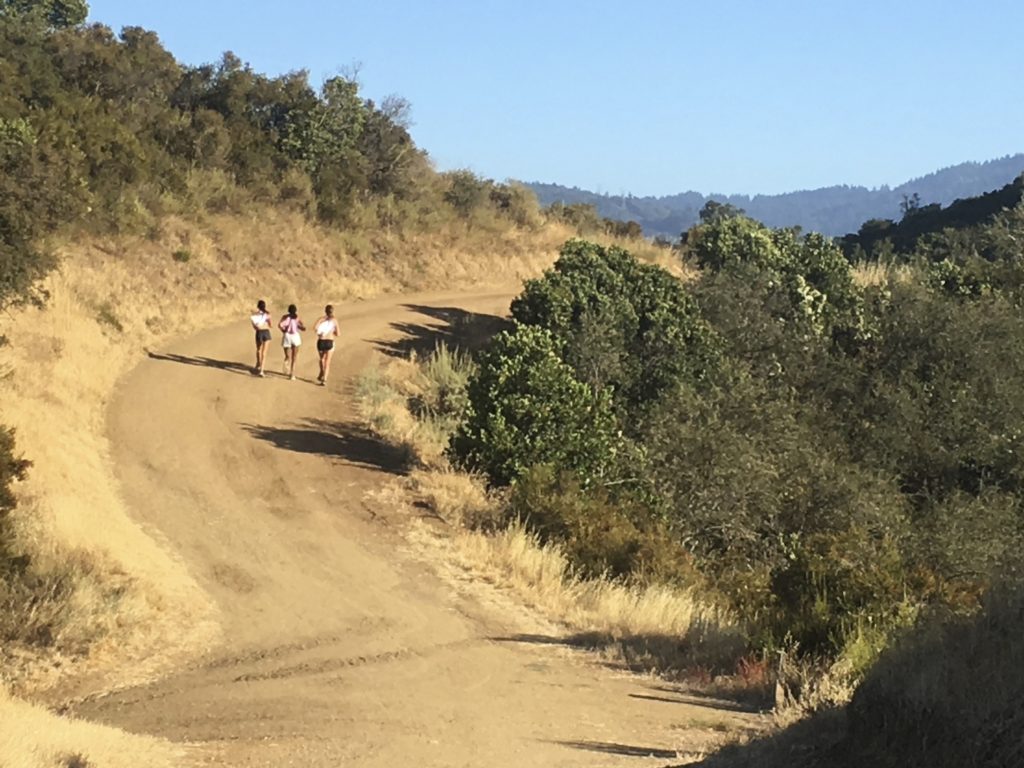 There are plenty of variations of our usual runs that are alternatives from one of the usual runs.  Be creative!  There are trails in Fremont Older we don't use, as well as plenty of random road routes you can experiment with and neighborhoods to explore.
Rancho
Rancho San Antonio Park has some great runs and does not take a lot of logistical planning.  It's a little more work for some MVXC athletes to get to Rancho but it's worth it.
Wildcat-Rogue is a nice loop that you can run either direction.  Clockwise, the climb is more gradual and a lot more friendly.  Counter-clockwise the climb is more relentless but the downhill is a blast.  There are lots of ways to add-on with side trails (most trails add more hills, nothing wrong with that).  I like going clockwise up Wildcat as a fitness-measurement, I time myself on the climb starting at the Farm and see how far up I get in a certain amount of time.  My challenge to MVXC would be to run continuously up for 20 minutes (turning left toward PG&E at the top) and see where you are, then do this again three or four weeks later.
PG&E is the hard core run of choice in Rancho.

Further Afield
Here are some exploratory or adventure runs that are further away.  You will need to organize some rides to these runs, but I bet there are parents or MVXC alumni or someone who would drive.  There are many parents who will not mind–they can drop you off and walk or run themselves, or simply retreat to a nearby Peet's or Starbucks for a latte and the newspaper until you are done!  All it takes to get to these runs is a little organizational ability and some motivation!
The Los Gatos Creek Trail is one of Bridget Gottlieb's favorite training runs; my running partners would often report Bridget's pony tail swinging by as she left my friends in the dust.  The most common starting points are Los Gatos High School or Campbell Park.  You can get as long a run as you want with no stop lights, it's really nice running.  Round trip from CP to Vasona Park, for example, is about seven miles, it's a ten mile round trip from CP to LGHS.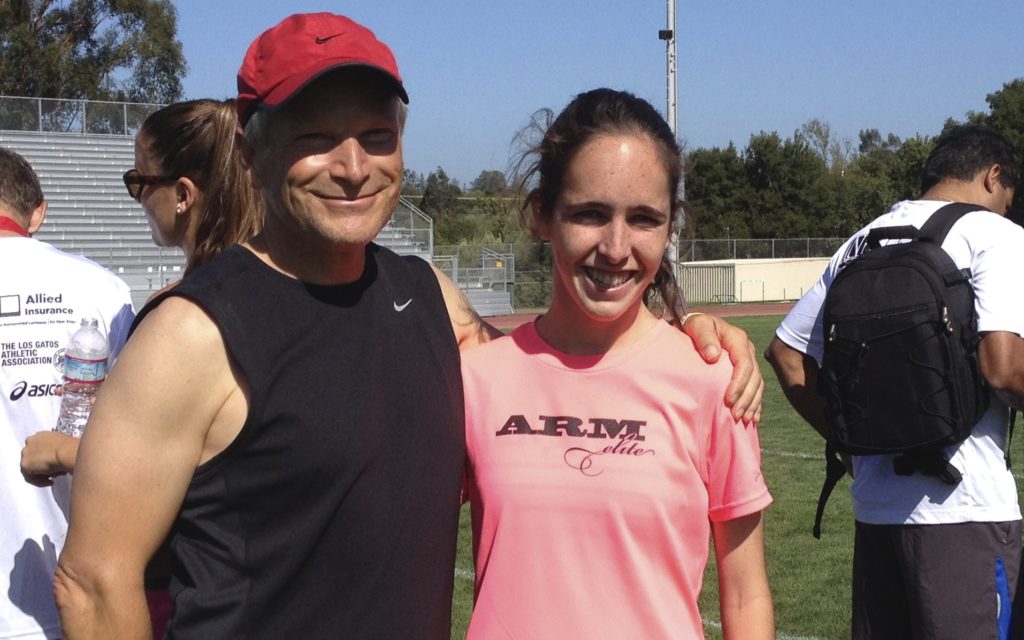 Bridget at LGHS after a 13 miler on the LG Creek Trail.
Also from Los Gatos High School, you can run St. Joe's Hill.  This is a very, very nasty climb but on a clear day you get a pay-off view at the top.  My friends and I go early in the morning and try to get up near sunrise, that is a treat.  (There are other routes back to LGHS than the one I showed but this is my favorite.)
A few years ago I lead a group of seniors and alumni up a route in Quicksilver Park after finals.  It had been raining and the course was a muddy mess, and the run is admittedly a beast of a trail run.  But I love this run!  Parents, there is a Peet's back down the road on Almaden while you are waiting for your muddy kids…or there are nice walks in the park, too.
During and after Quicksilver.
When the trails are all wet and you don't feel like tackling mud, Sawyer Camp is a really nice route–the route is paved the whole way.  From the start to the dam is five miles, and since it's an out-and-back route it's nice because everyone can get the miles they want.  If you need ten miles go all the way to the dam, if you need less just turn around whenever you want; everyone ends up at the same point.  And non-running parent drivers can walk, it's a really pretty trail whether you are walking or running.  I suggest late breakfast at Buck's in Woodside on the way back home!
On The Other Side
If you really want to adventure…Nisene Marks Demonstration Forest in Aptos is where the Aptos High School cross country team runs every day.  This is one of the few places that makes me jealous, this is a great place to run; sheltered in the winter from the rain and shady and cool in the summer.  I am sure you could talk the Meyyappans into running there this winter, particularly if you promised Paru that you could stop at Gayles to eat before heading home!
Wilder Ranch, north of Santa Cruz, has some killer views.  I want to figure out how to take a big piece of the team to run there one day.
Do It!
Taking your running out on the road to somewhere new can be fun and motivational.  One of the great things about our sport is that you can explore different places (I love running on vacation, exploring new spots).  Also, this is a good chance for anyone on our team to show some leadership by coming up with an idea for an adventurous run, getting teammates excited (promise some food after!), maybe invite some alumni, and then solving the logistics.
(If you would like my help in route-finding, drop me an email.  I love seeing you do this!  And afterwards, send me a short report and some photos and I'll publish on mvrunning.)
Let's get out there!