Running is not, as it so often seems, only about what you did in your last race or how many miles you ran last week.  
Running is, in a much more important way, about community, about appreciating all the miles run by other runners, too.  
~Richard O'Brien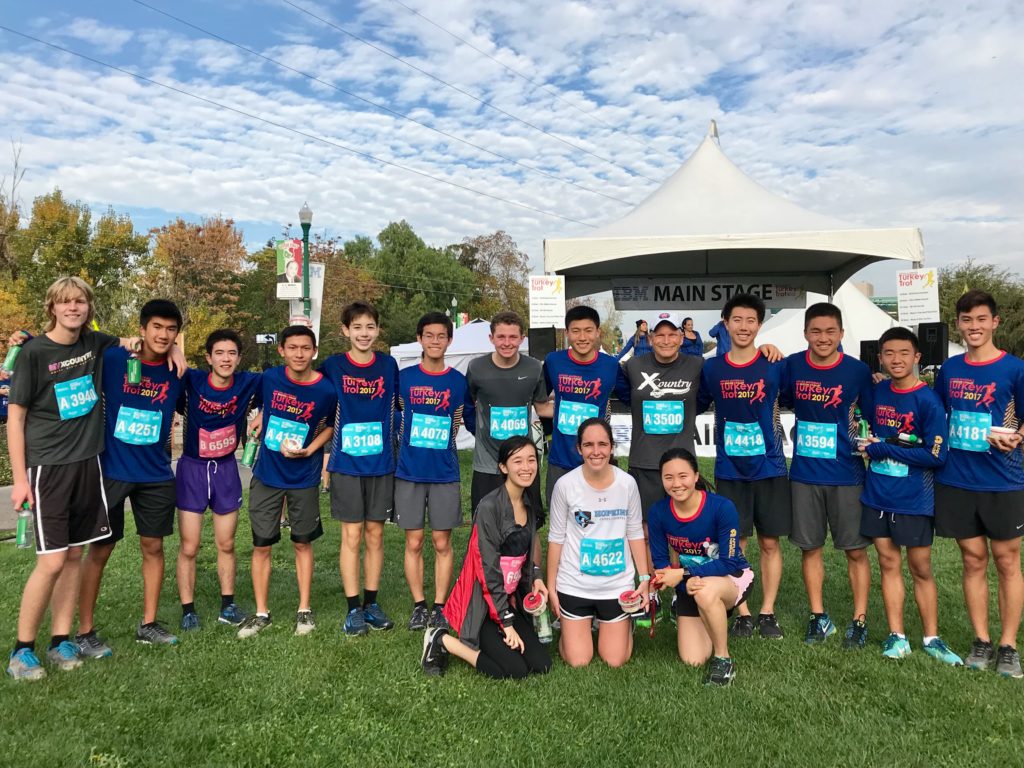 An immense group of MVXC runners represented well at the 2017 Silicon Valley Turkey Trot!  If you were at the race on Thanksgiving morning, you would have to be proud of the MVXC family…with current runners, alumni, and family members it was impossible to look around the race course and not see a Matador!
In the 5km race, MVXC dominated the 14-19 age group.  Triya Roy '20 won her age group and placed second overall with a sparkling 18:50 gun/18:42 net time.  With Akshara Majjiga '18 taking 3rd, Sanjana Borle '19 right behind in 4th, alumna Salma Sheriff '17 coming home from UCSD to romp away with 5th and Rachel Jiang '21 in 9th, MVXC had half of the top 10 places in the race!  If the 14-19 age group was scored as a cross country race with MVXC taking on the world, MVXC wins that meet 22-33!  Stunning.  Both Triya and Akshara finished in the top 10 overall, and Salma's sister Jannah won the 10-13 age group too.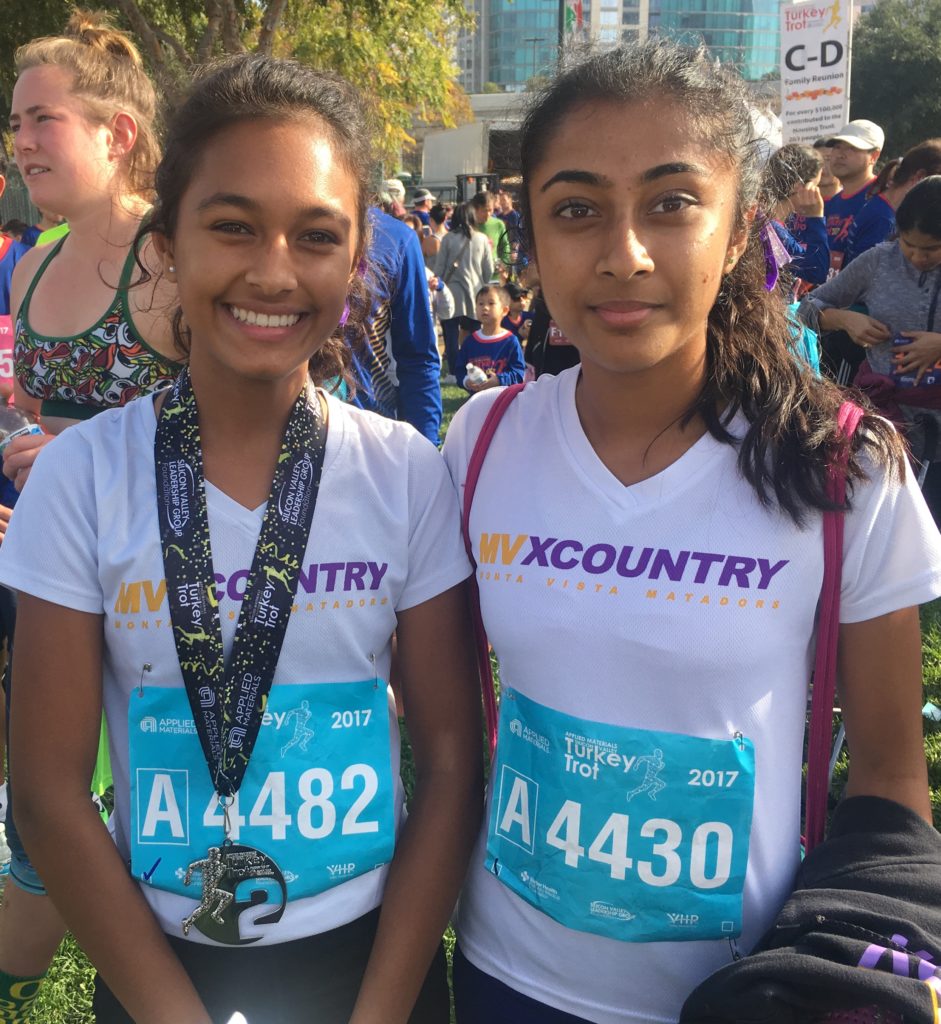 Triya Roy '20 and Sanjana Borle '19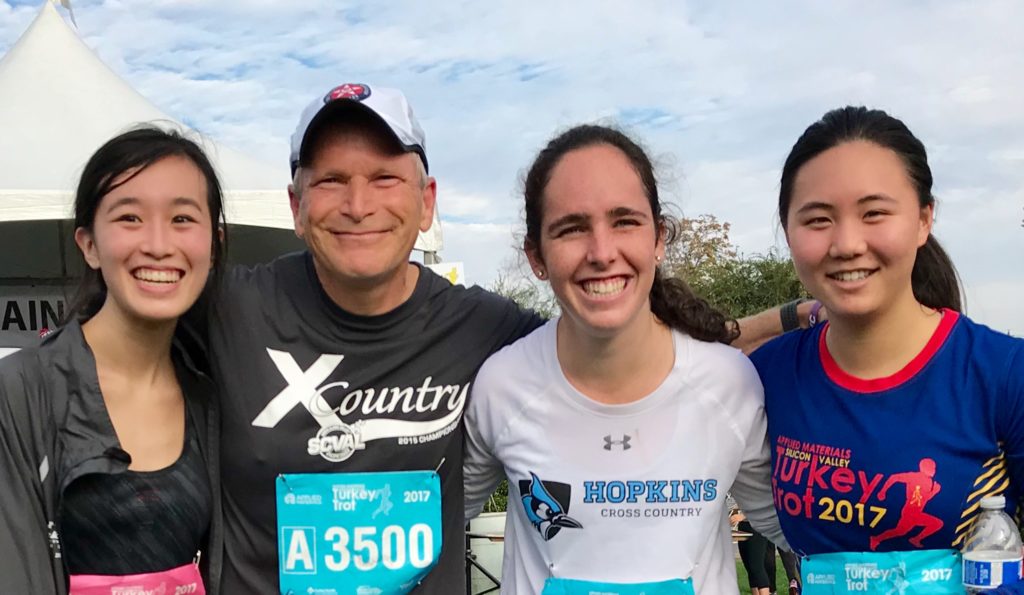 The heart of the MVXC11 Varsity girls' team:  Kirsten Do (Parsons School of Design), Bridget Gottlieb (Johns Hopkins), and Jenny Xu (MIT).  Not pictured from that team are Nandini Chitale (UCLA), Pearl Law (UC Irvine), Risako Tanida (now in Tokyo) and Neha Jammu.
Over in the 10km, a pair of Xus made a statement as both Jenny Xu '15 and Jeffrey Xu '18 placed 5th overall in the women's and men's races.  Jenny and Bridget Gottlieb '14 went 1-2 in their age group, with Maddy Yip '16 also taking second in her age group.  Jenny, Bridget and Maddy are all running for teams at MIT, Johns Hopkins and Stanford, respectively.   On the men's side of the 10km, Rohan Choudhury '15, fresh off representing CalTech in the NCAA regional cross country championships, took second in his age group.  Jeffrey Xu's time was good for the win in the 14-19 age group, with Derek Lee '18 and Ryan Niu '19 both in the top 10.
Complete results are available for all races.
More than all the fast finishes, the sheer number of MVXC runners was breathtaking.  I went through the race results and tried to pull out all the people with a connection to MVXC; I'm sure I missed some names (particularly parent's names I may not have recognized).  This is an incredible list of MVXC people…I'm so proud to be a part of this list!  I think next year we should set up an MVXC canopy and get some snacks at the finish (bagels and almond butter?) for an alumni reunion?  What do you think?
We hope everyone had a wonderful Thanksgiving!  See you on the roads!
A Partial List of MVXC Family Members at the Turkey Trot
Jeffrey Xu
Rohan Choudhury (CalTech)
Derek Lee
Jenny Xu (MIT)
Ryan Niu
Darren Yang
Jason Tsujimoto
Bridget Gottlieb (Johns Hopkins)
Brian Huang
Eric Wang
Ethan Chen
Maddy Yip (Stanford)
Ryo Kather
Heewon Chung
Ava Zamani (alumna)
Conner Hsu
Max Mracek
Ethan Lin
Kyle Ettinger
John Mracek (parent)
Claire Ettinger (MVTF refugee)
Aditi Dixit
Andrew Tedijanto
Eric Tsujimoto (parent)
Jill McDonough (alumni parent)
Nandini Chitale (UCLA)
Tanmoy Roy (parent)
Rhea Choudhury (University of Southern California) 
Abhijit Choudhury (alumni parent)
Saba Zamani (alumna)
Joyce Chen
Sue Chen (parent)
Neelika Choudhury (alumni parent)
Coach Flatow
Triya Roy
Bob Gottlieb (alumni parent)
Akshara Majjiga
Sanjana Borle
Salma Sheriff
Jannah Sheriff (alumna sister)
Rachel Jiang
John McNelis
John McNelis (parent)
Ananya Rajagopal
Colin Yang
Wendy Chui (alumni parent)
Kirsten Do (MVXC14, Parsons School of Design)
Ceci Imamura (parent)
Calvin Do (alumni parent)
Gary Ettinger (Parent)
Terri Ettinger (Parent)
Rohini Majjiga (parent)